European Parliament Elections 2019 – Round table
3rd May 2019 @ 11:00 am

-

2:00 pm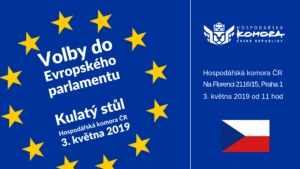 The European Union is facing considerable challenges. What will it look like in the next five years? Will the trend towards stronger centralization and harmonization continue? What should the EU do for entrepreneurs?
Are entrepreneurs' interests well promoted in the European Parliament? According to EUROCHAMBRES' MEP Entrepreneur Index, which tracks how MEPs vote in relation to a range of topics of importance to entrepreneurs, Stanislav Polčák, Dita Charanzová and Martina Dlabajová were among the most active in the past election period. How do new MEPs pursue the interests of entrepreneurs?
Come to discuss with the candidates on 3 May at the premises of the Chamber of Czech Republic.
ODS – Radka Trylcova
YES – Martina Dlabajová
Pirates – Mikuláš Peksa
KSČM – Jaromír Kohlíček
TOP09 / STAN – Radim Sršeň
Please register by May 1, 2019 at the latest by e-mail havlikova@komora.cz