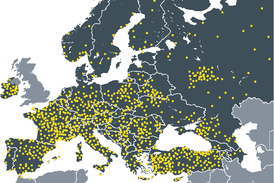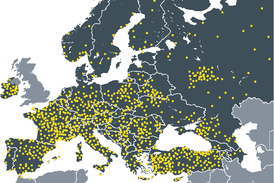 The network of Chambers of Commerce around Europe has been very active in responding to the threats that the covid-19 pandemic is posing to the economy. They are in constant contact with companies, with their respective governements and with the EU institutions to find solutions in order to tackle the disruptive effects of this crisis on business, and especially on small and medium enterprises.
Austria
Services provided for members
WKO installed a telephone hotline and a homepage www.wko.at/corona. Members can get in contact by e-mail or online request. A chatbot on the homepage leads through the FAQs. These services are also offered on weekends.
Topics
FAQ – Answers to the most common questions from labour law to contract law
Information on restrictions: Which companies are affected?
Information on aid measures for companies including Corona short-time work, hardship funds, corona funds, tax deferrals, guarantees, loans etc.
Protective masks: Ordering and initiatives
Special service information for certain industries
Current updates from affected countries
Mailing services for news and webinars for special target groups
Lobbying for members
WKÖ has created an emergency task force that coordinates the support for companies and is in close contact with the government to shape the aid measures for the Austrian economy.
The hardship funds are even handled by WKO for the government.
WKO also negotiated the new model for short time work with the social partners.
WKO internal measures for financial relief
WKO decided to suspend the basic membership fee (basic levy) for this year until further notice. In addition, members can apply for a deferral or an instalment payment of chamber levies 1 and 2.
Bulgaria
Cyprus
Estonia
France
Greece
Ireland
Latvia
Luxembourg
Belgium
Croatia
Due to the spread of COVID-19 in Croatia, neighbouring countries and worldwide, as well as the impact of the new situation on the domestic economy, Croatian Chamber of Economy, through a separate section of the web site  (https://www.hgk.hr/korona)  regularly informs entrepreneurs about the development of the situation and the details that affect their business.
General information and daily recommendations for the preservation of health, as well as sector-specific guidance focused on the problems faced by particular industries are being published on the web site and communicated to the members.
A special e-mail address for coronavirus inquiries was opened (covid@hgk.hr), and a special procedure was established by the CCE Contact Centre to resolve queries from member companies (member line – CCE – competent authority – member).
CCE is involved in drafting measures to assist the economy to mitigate the consequences of the situation, especially aimed at productive and export-oriented sectors of the economy and preserving liquidity.
Czech Republic
The activities of the Czech Chamber of Commerce to support businesses in times of the crisis:
Makes proposals for compensatory measures to the government and negotiates with the government and politicians.
Responds, free of charge, in partnership with partner law firms, to specific questions from entrepreneurs, not just its members, in connection with a pandemic.
Is in constant contact with the members who are informed daily via direct mailing about major news and polled on weekly basis regarding the situation.
Coordinates requirements and ideas with its regional and professional network.
Issues force majeure certificates.
Launched an application for the use of temporary workers and free business capacity at www.worklinks.com.
Organized a platform to ensure the supply of protective, medical and sanitary equipment needed for entrepreneurs and their employees www.komora.cz/ochranne-pomucky/.
Approached the professional chambers of attorneys, tax advisors, accountants and auditors with a request for cooperation and the provision of services and for the use of service "PODEJTO ZA ME" at reduced price or for free. The service enables the processing of official formalities through data box holders.
Publishes model examples of corporate losses linked to the crisis.
Develops manuals and guidance on how to apply for compensatory measures and provides with application forms.
In cooperation with Czech Credit Bureau – Monitoring Cribis enables monitoring of the economic situation of customers and business partners free of charge for 2 months.
Multiplied highly its presence in media and together with partners, it created an extensive advertising campaign to save entrepreneurs.
Finland
During Covid-19 crisis Finland Chamber of Commerce as a national Chamber and 19 regional Chambers are working closely together in order to help member companies in their challenges. Co-operation with regional chambers has converged during the crisis and we are maintaining even closer contact with chambers and offering our support.
Chambers are collecting practical information from companies by making regular market studies and and publish them in the media. Chambers are also making proposals for Finnish Government how to help companies over bad times.
Finland Chamber of Commerce actively participates in the social discussions in multiple channels (incl. media, internal and external communications to stakeholders). We publish proposals and solutions and comment the topic through national channels.
During the crisis, we have opened new communications channels so that we can support companies and bring our views into the social debate. For example, we opened a website where companies will find corona information for their use. We update the page continually.
Through our international Finncham network and Chamber partners we are also gathering information from other markets. EUROCHAMBRES is also sharing useful information among European Chambers. Furthermore, Chambers are hosting webinars and updating special Covid-19 website concerning practical information.
Germany
Hungary
Italy
Since the beginning of the emergency, Italian Chambers of Commerce have been putting in place actions at different level under the coordination of a Task Force coordinated by Unioncamere  1) as a first priority, seamless provision of public services (most of them already digitalized). Chambers also provide companies, upon request, with force majeure certificates to comply with international contracts. 2) financial intervention of Chambers to facilitate SMEs' access to credit (in particular on lending rates). 3) creation of InformaImpresa, a web portal, updated on a daily basis, disseminating useful information for companies and providing an hotline (telephone and mail) ready to respond to SMEs requests. 3) carrying out studies on the impact of coronavirus on the national/local economy 4) creation of an observatory on border traffic restrictions in Europe in Italian, English and German. 5) matchmaking between demand and offer of medical supplies and personnel to face the emergency.
Lithuania
Malta
Netherlands
The Netherlands Chamber of Commerce (KVK NL) has been appointed as the official first point of contact for entrepreneurs, working together with public and private partners (business organisations). The KVK Coronaloket contains all relevant information for entrepreneurs (f.e. FAQ and government support measures). A special line (0800-2117) has been opened for all questions. Every day about 90-100 advisors are answering questions by telephone. The number of calls and online visits of the Coronaloket is publised every day on the press channel. (16-04: 35.000 calls and 2,2 million online visits). A special Corona Chatbot is supporting the information task.
KVK informs entrepreneurs by special newsletters (200.000 subscribers) and by Linkedin (32.000 subscribers) and Twitter (62.000 followers), supported by explainer videos.
For foreign entrepreneurs, KVK is also managing (and works with partners on) the Single Digital Gateway portal in the Netherlands: https://business.gov.nl/. The information on COVID-19 is derived from the KVK website and has been put in English.
KVK regularly publishes polls about COVID-19 in relation to entrepreneurs, for exemple about  government support measures and about financial expectations. 03-04: Update and Report. 16-04: Update and Report.
Romania
Spain
Montenegro
In line with the outbreak of the COVID 19 virus and the current situation Chamber of Economy
of Montenegro is acting as responsible and reliable partner to the economy and Government.
Chamber of Economy of Montenegro (CEM) enables faster, simpler and more efficient flow of
relevant information as well as a response to emerging business problems that occurred.
We are in constant contact with business community, Government, line ministries and relevant
institutions.
Communication with business community is direct (by phone, questionnaires and e-mail). Most
of questions are related with interpretation of measures imposed by Government and possibilities
for support (mostly SME, tourism, agriculture, catering…).
Most important information we share also through a separate section of our website.
Russia
CCI Russia undertakes various measures to support business during the crisis caused by spread of COVID-19.
A hot line for entrepreneurs is organised by CCI RF in order to explain aspects related to force majeure circumstances, government measures on tax legislation, employment and labour relations, financing and subsidiaries, state and municipal property rent.
CCI Russia as well as local CCIs is in charge of issuing of force majeure certificates.
A wide range of webinars, anti-crisis live broadcasts is constantly held by leading experts from government bodies and chamber community.
In order to monitor the level of crisis caused by the coronavirus pandemic CCI RF launched the online opinion poll which is called "Business Barometer of the Country". The results will be used while implementing new measures of business support.
The updated information on CCI RF activity during the crisis can be found via the following link: https://tpprf.ru/en/